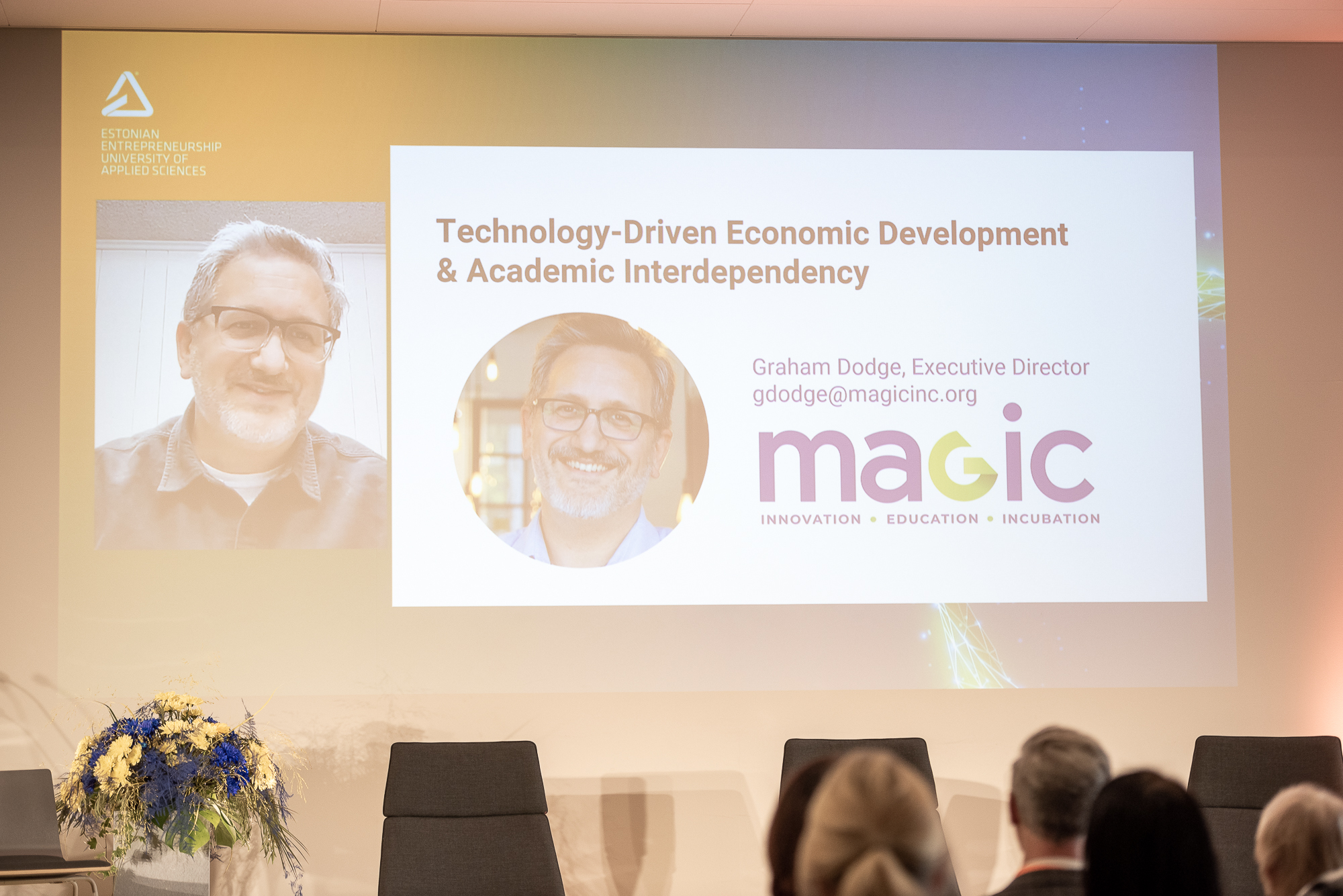 GREEN DIET: Keynote speaker #5: Graham Dodge
29.11.2022
The fifth and last keynote speaker was Mr. Graham Dodge from the US. He is the executive director of MAGIC, an award-winning entrepreneur, author and patented inventor with experience in designing and deploying large consumer health platforms and systems of intelligence. He is recognized for building one of Entrepreneur Magazine's 100 Brilliant Companies, and is a technology accelerator veteran as an alumni of Techstars, 500 Startups, and Plug And Play Tech Center. His thoughts during this conference were about technology driven economic development and innovation; with the presentation being titled "Technology Driven Economic Development and Innovation – Interdependency Between Academia and Industry Sectors".


Mr. Dodge began by speaking about the creation or success story of Silicon Valley. Today, it is the place where many of the largest companies, like Apple, are located. How did it come to be like this? A lot of people say that their success lies on the shoulders of the semiconductor business. The phenomenon there was companies becoming other companies. There were several successful companies that generated many other companies. They also share academic interdependency with Stanford University. He noted that his logic is something that creates a steady workforce. Fred Terman, who is considered the father of Silicon Valley, also started from Stanford. He coordinated the research needed and had it commercialised which was very unusual back at the time. Most universities were focused on education, not serving any industry. Nowadays almost every major university has a technology transfer process.
He then proceeded to describe the development process in his own community, Westminster. The region had a company that began building robotics for General Dynamics in 1991 and was rapidly acquired. However, most of the workers stayed in the area because the life conditions were good. They then either went to work for other companies or started their own. In the community they now have several colleges that are starting to recognise the technology transfer process. They seem to be positively inclined towards the idea of wanting to be involved in the industry that surrounds them, and find their students' options for scholarships. Mr. Dodge has also worked with these colleges.
Moreover, he says, Westminster has lightspeed fibre Internet access. This was set up due to the area being underserved by broadband internet companies. Now, many companies want to integrate to the area because of the gigabit Internet connection. He continued with the issues and advances of transportation. Entering and moving around the community is still not easy, the presenter said. However, they have started something called the Autonomous Corridor Project. This means on demand transit within the predefined corridor. The area will also have shared surveillance for public security purposes. In the future they will conduct proofing for drone delivery.
He proceeded to bring a few more examples of how people are applying the lessons he has learned for the good of the community. They also work together with the local civil air patrol, which allowed the team to do drone scans during day time and afterwards create a fully synthesised digital twin of a portion of the Main Street. In the future they plan to buy more AV and EV vehicles and expand the digital twin to reduce the heavy traffic. Lastly, he stated that all of those aforementioned notions helped them to create what they call SiliconMainStreet. A place where history meets tomorrow.
You can find full discussion on our Youtube channel. More information at conference homepage.