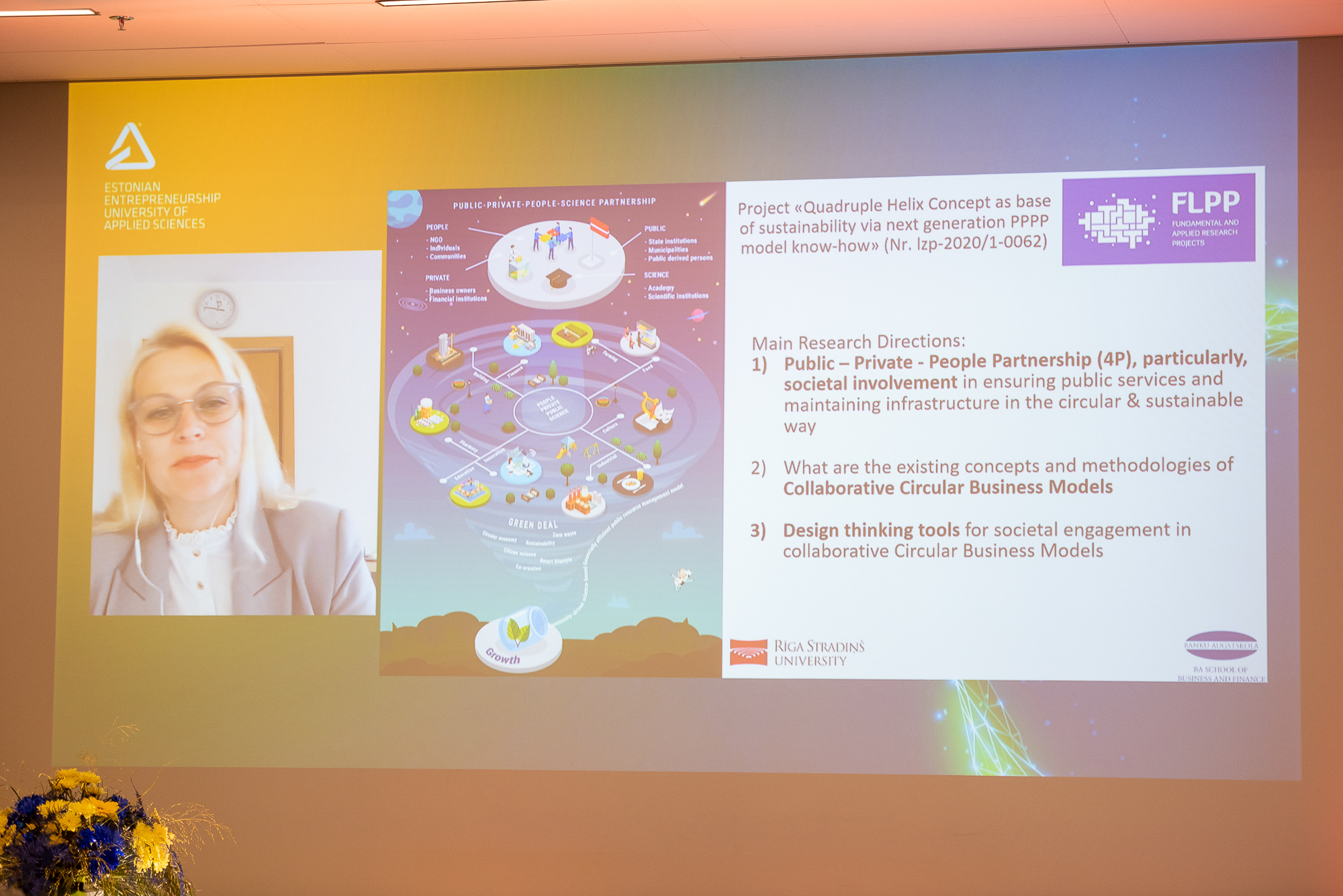 GREEN DIET: Presentations of Scientific Papers
27.11.2022
This session comprised of five people introducing their latest research projects with topics varying from circular economy to green twins and even gaming communities. Summaries of all presentations will follow.
The first speaker of the block was Ms. Inga Uvarova from Latvia. She is a PhD candidate in Business Management, and obtains master's degrees in economics and educational science. She is a lecturer, a sustainability consultant and owner of the company ArtSmart. Her research expertise relates to sustainable and circular business models, business start-ups and innovation. Inga is involved in the team of a research project "Quadruple Helix Concept as base of the next generation PPP model", where she explores the concept of Quadruplex Helix cooperation within circular business models.


During her presentation she discussed her paper "Circular Economy in Business: Is It a Fashionable Green Diet, New Religion or Profitable Value Creation?" and started by mentioning the issues of the circular economy. Inga clarified that circular economy promotes thinking about more than simply making a profit and prompts businesses and entrepreneurs to start pondering over sustainable value and shared value. Also, the circular economy has become more active in the last 5 years. Especially amongst European Union countries that have considered the green transition and focus on working towards becoming the greenest continent in coming years.
Moreover, when speaking about the circular economy, there are several different levels to take not of. The macro level: focusing on different issues on a national, international or global level. The mezzo level: focusing on issues intrinsic to one particular region or industry and environmental problems in those particular sectors. The micro level: focusing on issues regarding what happens in the companies when they receive messages about working with the economical footprint. The changes in customer behaviour are also signalling that the buyers are starting to require certain values in services. This is one of the several matters that are pushing companies to change their attitudes towards the environment.
Ms. Uvarova also brought out that companies are not left to fend alone once they wish to start applying the ideas of circular economy - instead there are guiding points from where to start. For example, starting with recycling and reducing their footprint and move forward towards reverse logistics - how to get back products that have already been used and how to re-use them. To add, the presenter spoke about the benefits for businesses when they start to consider these issues. Following the ideas of circular economy helps to increase competitiveness. Adapting the principles of circular economy will lead to saving resources - cost saving and possible increase in profits and/or profitability. These steps will also improve the reputation of businesses, which will probably bring in new customers.
Last but not least, is the circular economy a new religion? No, businesses should always consider whether the changes are technically feasible, whether all stakeholders desire the same changes, and whether the changes are financially viable.
The second presenter was Mr. Magnus Thor Torfason from Iceland, who presented the research he conducted together with Ms. Ana Orelj. Mr. Torfason is an associate professor at the University of Iceland School of Business, where he heads the interdisciplinary master's program in Innovation and Entrepreneurship. His research focuses on how behaviour is influenced by the social structure of individuals and organisations. One research stream explores how social networks and group identities jointly affect adherence to informal societal rules and norms of behaviour, and another examines norms and their violation within exchange networks.


During his presentation, Mr. Torfason introduced the scientific paper about research regarding gamers' motivation towards contributing to community innovation initiatives. The title of the paper is "It's the people: Friends in pixels as motivation to contribute to community innovation initiatives". The presenter said that gamers are looked at here as members of innovation communities. Innovation community meaning that the people there share a common interest and are willing to share their knowledge and skills to reach a goal one person alone wouldn't be able to achieve.
The presenter has previously argued that online players contribute to the game they are playing, but this is not the only useful aspect. The ever-growing gaming community also contributes to company focus and strategy. The skilled and knowledgeable members of these communities can and do contribute to social challenges and gamers are rather activated towards solving social issues. For example, gamers are the best people for finding solutions to conquer in-game issues like game toxicity.
With this paper, the presenter says, they look at what motivates gamers to support these community issues. Their team has conducted interviews with gamers, people working in CCP Games, and looked at internal company documents. These processes were intended to lead towards understanding the phenomenon of interest. Mr. Torfason named this phenomenon of interest as the reason the gamers have motivation to contribute. This phenomenon feeds into strategies and into how gamers and companies communicate.
He pointed out that there are several important dimensions to this motivation:
Individual motivation or benefit

Relation or community motivation

In-game motivation, directly related to the game (in-game rewards, etc.)

Motivational benefits that are unrelated to the game played
These points are all related. One may log into a game and meet their community friends in pixels, but they help the community, feel emotionally affected by it and are attached to others in the group. For the people looking in from the outside this might sound very abstract, yet the presenter is certain that aforementioned concepts play a great part in creating the drive for many players. Mr. Torfason believes that companies should change their perception of gamers and the communities they form.
The third speaker of the block was Ms. Ingrit Roosileht from Estonia, who introduced the research she had conducted with her colleagues Ms. Tamm, Ms. Kull, Mr. Alliksoo and Ms. Olesk. Their paper is titled "Major outcome from the Space4UAM project – UAM roadmap for cities". Ms. Roosileht is the Head of Training of the Aviation Management in the Estonian Aviation Academy (EAVA) who, as of this September, is actively training to become a remote pilot. The speaker has extensive experience in the aviation industry. Nowadays she has set her focus on urban air mobility (UAM) and unmanned aviation development. Her recent thesis on "Tartu Airspace Analysis for the Establishment of Unmanned Aviation Systems Test Field" was awarded in the Applied Research and Development science work competition.



She started the presentation by mentioning that the project at hand became much more than the team originally anticipated. This roadmap they created is important because the urban air mobility market is growing rapidly. By 2030, it is probable that the market will grow more than 30%. Urban air mobility is a leverage in developing new advanced technologies for bringing aviation and air mobility closer to people. Many cities and regions are currently looking for options on how to integrate this new innovation into urban mobility planning and development. It is necessary for long term planning in order to create a stable and sustainable mobility ecosystem.
The presenter showed the roadmap being sub-categorised into 5 main categories: preparation and planning (I), policy and coordination (II), technology and innovation (III), business and finance (IV), digital skills and capacity (V). She then proceeded to introduce the necessary steps in each category. During the first phase the team carried out initial analysis and mapping, identified relevant stakeholders, defined geographical scope and worked on several other aspects. Having reached the second phase they, for example, worked on ensuring political and institutional ownership, setting up a coordination mechanism, establishing stakeholders' and citizens' engagement. Some aspects that the third phase brought on were developing future UAM scenarios and drone applications, engaging with the industry for the development of drone technologies and conducting support research and development actions. After quelling these challenges their team reached phase four, which brought them to evaluating financial and environmental impact of UAM services, creating a plan to to support new business opportunities and deploying the consultation platform for stakeholders. The last, fifth, phase meant enabling digital tools for supporting UAM services, incorporating UAM into smart city and digital strategy, finding suitable cybersecurity solutions and enabling joint creation and validation.
The speaker said that the topic is rather well spread around the globe and many regions are trying to find solutions best for their areas. This current roadmap is rather basic, so everyone who wishes to apply it might find a suitable part from the system. Not all cities have to follow it step by step, since it would already be great if they could realise at least a part of the whole roadmap.
The fourth speaker during this presentation block was Ms. Marika Eik from Estonia, who presented the research she conducted with her colleagues M. Matson and J. Belikov. The paper is titled "Modelling of Traffic Flow Considering Weather Properties: Case Study of Ülemiste City". Ms. Eik is a senior researcher at EUAS and data scientist at Mainor AS. She is inspired by the application of Machine Learning methods on different engineering and technological problems such as forecasting the traffic flow (considering weather properties) and determining cementitious matrix porosity (based on SEM/mCT images). She also has extensive experience and a strong motivation in testing and modelling fibre reinforced concrete.


The speaker began her presentation by arguing that Ülemiste City aims to become a smart city. One of the aspects of becoming smart is turning focus on the environment. And with the concept of being environmentally friendly comes the notion of mobility. Mobility is related to all traffic modelling. It has its own strategic objectives. For example, increasing the amount of non-motorised vehicles and decreasing the number of private cars and taxis driving in Ülemiste City. Moreover, it is important to improve the ways for people to reach Ülemiste City via public transport, upgrade parking options and increase vehicle sharing management.
Ms. Eik explained that the team started by figuring out what type of data-sets and features are relevant for traffic flow forecasts; what type of ML models are suitable for traffic flow forecasts; what kind of effect do weather properties have on the performance of traffic flow modelling; and how can ML methods support the development of sustainable environment of a Smart City (e.g. mobility).
Then they moved onto collecting data. The teams tracked the traffic on intersections that allow traffic into or out of Ülemiste City. The data was collected by an ML object detection model that was applied to live video streams from cameras. The algorithm detects objects and places labels on them (e.g. car, van, bus, lorry, etc.) and saves the count of vehicles over a certain time period onto a database.
To continue, the speaker introduced the input features for the models they used in their research. The traffic data was counted with time steps and to use it within ML they had to define it as a supervised learning problem. For this the team applied the so-called sliding window method. The width of this sliding window is equal to the number of previous time steps. Their sliding window width was equal to the 27 data points which in turn were equivalent to the length of one day.
The team's first approach was a basic, naive model that displayed the vehicle count of the present day. They forecast the same amount for the next day. Moving on, they tested three ML algorithms: linear regression (LR), linear regression with a huber loss (HR), and extreme gradient boosting. The input feature was only the historical traffic data. Firstly, they tried to combine the historical traffic count with historical weather data. The team tested each weather property: weather phenomena (categorical data), wind speed (numerical data) and temperature. Each of these was tested with historical traffic counts. To add, the team applied a model that combined two weather properties (air temperature and weather phenomena) with the historical traffic counts.
The presenter concluded that the findings show that their basic, naive, model worked quite well as the prediction for the next day did not exceed the error of 10%. However, the ML methods did have a rather strong impact since they improved the accuracy of the basic model by 26-29% on average. The weather, however, did not significantly improve the accuracy of ML methods. The XGBoost algorithm demonstrated the effect of weather phenomena (snow or rain) for incoming cars. LR and HR displayed the effect of weather, but only for the outgoing vans. This data will prove important for the advanced management of parking.
Lastly, the presenter stated that the team might look into cooperating with insurance companies, and reminded everyone that to lower the amount of vehicles in Ülemiste City there ought to be better connections via public transport and vehicle sharing services sould be highlighted.
The last presenter of the scientific research papers' block was Ms. Viktorija Prilenska who is a post-doctoral researcher at TalTech. She is involved in two pilot projects – GreenTwins and Well-being Score, which are being conducted jointly with FinEst Centre for Smart Cities, and the cities of Tallinn and Narva respectively. GreenTwins focuses on the dynamic vegetation layer for the digital twin of Tallinn. In her previous research, the presenter worked with the topics of serious gaming, co-design, civic engagement and energy transition. Apart from academia, she had been working as a practising architect and urban planner, focusing mainly on building refurbishments and detailed plans. During this conference she presented her research regarding the GreenTwins project, with the paper being titled as "GreenTwins: A Collaborative Planning Support System (CPSS) for better decisions in relation to urban green infrastructure".


The speaker started by mentioning that Estonia is probably the only country in the world that is building a country-wide digital twin, and introduced the GreenTwins project. Admittedly, the project focuses on urban green digital twins. Urban Digital Twins meaning containers for 3D models, algorithms and data. The project integrates with previous data and allows the users to analyse, predict and build patterns from the integrated data.
The GreenTwins pilot aims to build a layer of greenery for the digital twin of Tallinn, and to strengthen smart and inclusive urban planning. As a CPSS, the database of GreenTwins consists of a digital plant library and the tool of a virtual green planner. The library stores info regarding trees and grassy areas in the city and creates projections of growth and seasonal change. This data is collected automatically using drone images from all the areas in two different angles. The precision of the algorithm is 70-80%. The data is then validated with fieldwork projects. She advocates that having all this information allows us to have scenarios and benchmarking. There are options to compare different scenarios – what will happen if there is dense urban development. What will happen if the lawn is converted into meadow, or left alone to grow into a forest. All in all, one could predict how diverse this environment could be for humans and other species - like bees.
Ms. Prilenska then went on to introduce another tool from the project, that is more of an interface interacting with the Digital Plant Library. It is a simple 3D co-creation platform that enables users to create their own alternative plants and look at what others have created. She points out that this is a great method to let regular citizens create plants and compare or share their ideas with other people.
She concluded that the heart of their project, or what most will see, is the AvaLinn Smart City planning hub which will be equipped with state-of-the-art visualisation technology to facilitate digitally aided public participation. The idea is not to have a finished thing but to create the feeling of a work in progress that gives the visitors a workshop-like experience. The hub is already being built and the presumed grand opening will be in spring 2023 on Kaarli pst. 1
More information at conference homepage