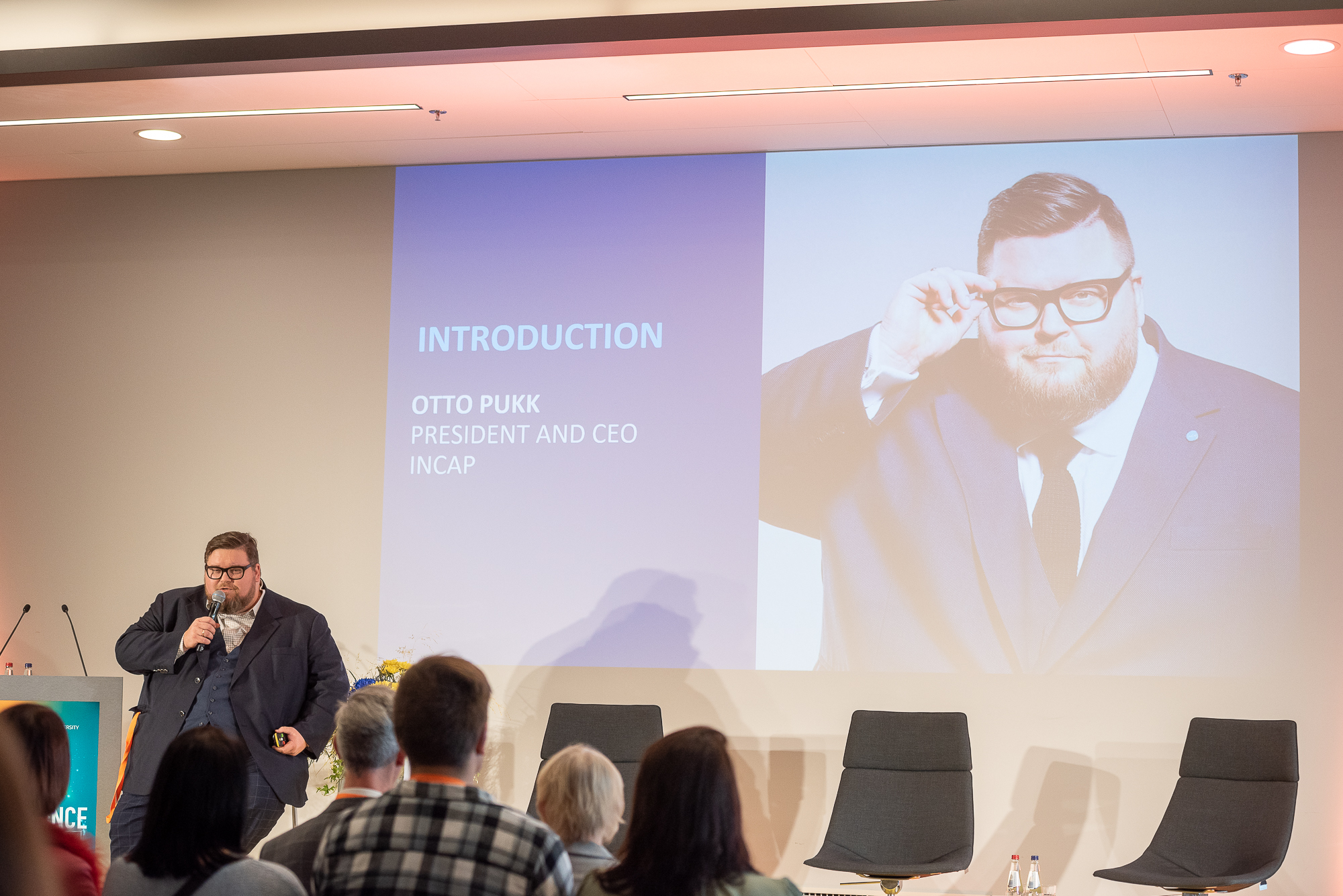 GREEN DIET: Keynote speaker #4: Otto Richard Pukk
23.11.2022
The fourth keynote speaker was Mr. Otto Richard Pukk, the CEO and president of Incap Corporation. Incap is a trusted partner and full service provider in Electronics Manufacturing Services that offers state-of-the-art technology backed up by an entrepreneurial culture and highly qualified personnel. The corporation employs approximately 2500 people worldwide. The speaker has served in demanding positions in various technology companies, thereby gaining comprehensive experience in managing and leading operations of international companies. In 2020, Otto was awarded with The Order of the White Star, 4th Class by the President of the Republic of Estonia, and the "Best Leader" title issued by Estonian Business Magazine Äripäev. During the conference he discussed whether and how Green Innovation increases enterprise value. His presentation was titled "Does Green Innovation increase enterprise value and how (in the long term)? Experiences on how to root innovation culture in an organisation?".



Mr. Pukk started by introducing Incap Corporation. Incap is a global corporation, with sourcing HQ in Hong Kong and production units in India, Estonia, Slovakia and UK, that builds electronics for other companies in many different industries: automotive, aerospace and defence, energy, IOT, classical industrial, medical electronics, etc. Nowadays almost 80% of the corporation's products have something to do with "green" (smart home devices, etc). The corporation has been listed on Helsinki NASDAQ since the year 1997.
Some years ago manufacturing was only dealing with the manufacturing part of the business. Today Incap does a lot of services around the production, the speaker said. Ranging from product designs to logistics, aftermarket sales, financing, and many more. It is not as simple as only manufacturing anymore.
He then moved on to talking about whether green innovation does increase the enterprise value or not. He stated that they see a lot of attention when it comes to the ideas of companies being sustainable, especially as a listed company. There are questions about how they work with the environment, since the whole topic has become much more relevant in recent years.
Nowadays the companies cannot only think of making money but have to also focus on how they earn it. Incap, he says, is also focusing on the topic. They are focused on their own footprint and what they do about it. The speaker also notes that the environment is only one part of corporate responsibility and he does not think it should be separated from other aspects. For example, he says, one cannot only focus on the environmental footprint but have slave labour at the same time. One must not forget to look at the whole footprint, not just separate aspects of it. It is obvious that green energy has become a must – not because everyone wants it, but because we direly need it.
The speaker continued by discussing how to root innovation culture. One of the challenges of this concept is the devaluation of the corporate responsibility system. There is a large number of companies that publicly declare themselves to be environment friendly and try to challenge the norms of the society. He mentioned working with light vehicle companies, whose scooters' life cycle is about three weeks long before the items get replaced. Is that really green, he asks. There are more questions regarding similar matters - like recycling ageing car batteries. There are many questions yet not too many guidelines to follow. There is no reporting framework available, no standard in any country regarding reporting about corporate responsibility effects.
Incap is also working with the ideas of SDG-s. Mr. Pukk states that soon almost 20 000 companies have signed the initiative of the SDG-s, but in the grand scheme of things this number is just a drop of water in the ocean. Incap, however, has environmental systems in all of their factories, they see reporting as one of the keys.
To add, the speaker summarised their responsibility programme. One key aspect seems to be that every business can have any kind of ambition, but all of it is useless when the business cannot have its people behind it. Incap Corporation has chosen a decentralised business model. We, the speaker said, built our values and worked on them with our team. We set up the code of conduct and our values. It must be remembered that people are most important in any operation and it is the business' responsibility to create such an atmosphere that people dare to take responsibility and also fail.
Lastly, he pointed out that there is no innovation without failures because it is from failures that we learn how to perfect whatever it is you are creating. It rarely happens that someone manages to put an idea to work with the first attempt.

You can find full discussion on our Youtube channel. More information at conference homepage.