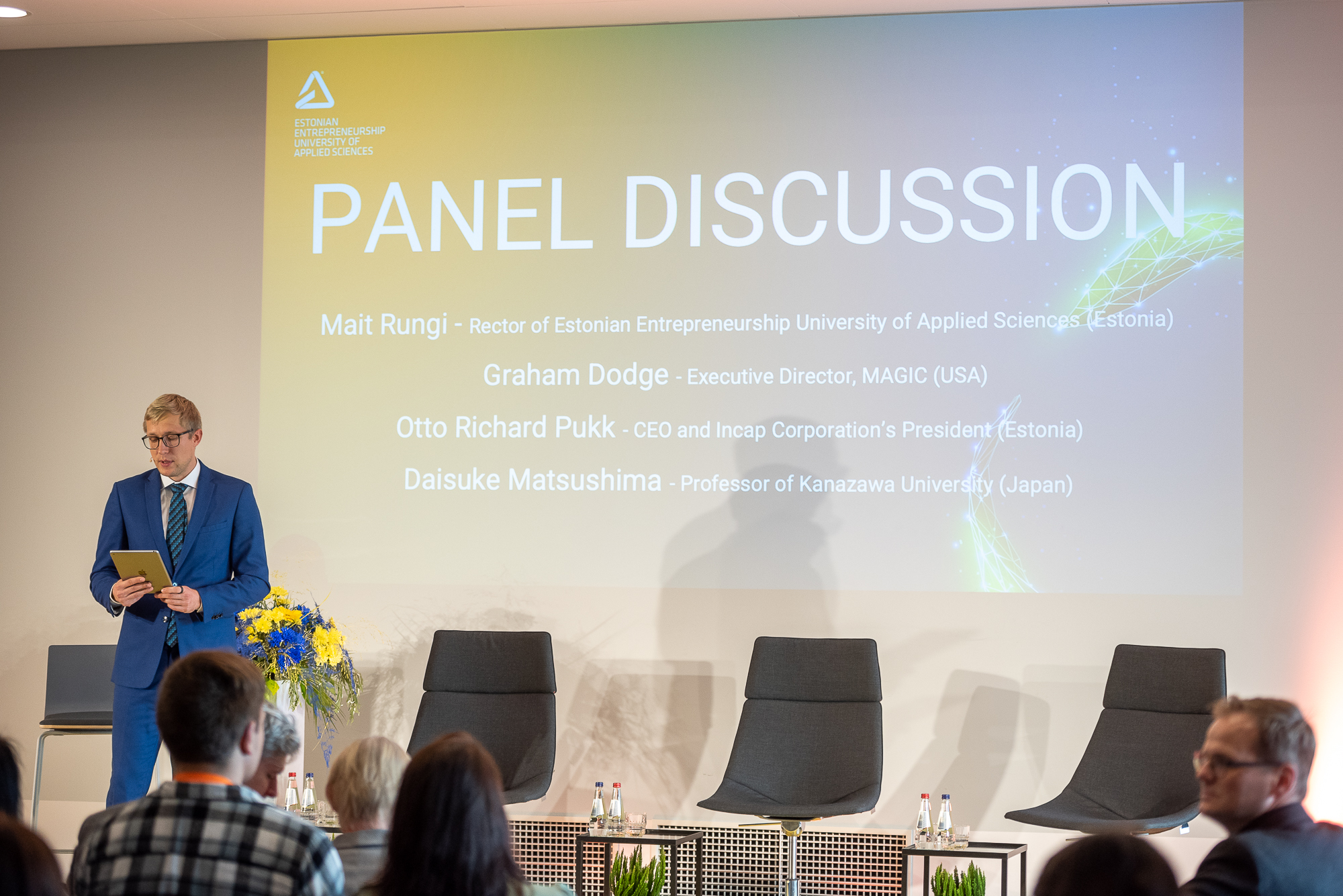 GREEN DIET: Panel Discussion
04.12.2022
The panel discussion tackled several questions under the banner of "How can universities leverage digital innovation to craft a green future and how can they provide the best support to increase green innovation and business growth of companies?" The elected representatives on the panel were the rector of EUAS, Dr. Mait Rungi (Estonia), the executive director of MAGIC, Graham Dodge (USA), the CEO of Incap Corporation, Otto Richard Pukk (Estonia) and Professor Daisuke Matsushima of Kanazawa University (Japan).



The panel set off with questions regarding the concept of green transition. Mr. Pukk argued that we should still go on with the green transition even though we live during turbulent times. This situation, he said, might even be a kind of a booster for progress. He also reminded everyone to care for the planet, since it is the only one, we have. Mr. Dodge discussed the notion of greenwashing in the USA. He said that carbon credits have come under a great scrutiny in recent years and some companies try to fight the situation by paying someone to plant a large number of trees. This method, however, is not helpful at all. It would be more important, in his opinion, to focus on developing new technologies that could source energy from renewable sources; and to find funding for research so we might discover energy sources that are yet unknown to us today.
Mr. Rungi talked about the setback of Estonia having to temporarily rely heavily on fossil fuels. He noted that this issue should be looked at through a wider global spectrum because it is not only Estonia that has to figure out a way to continue in this dire geopolitical situation. If the traditional oil shale cannot be used, he pondered, then what would be the alternative? Nuclear power plants also have huge environmental issues. He argued for the need not to go back on relying on oil shale and other fossil fuels. The planet does not wait even during difficult times. Mr Matsushima noted that Japan started focusing on green industries already in the 1970s, after a serious nuclear crisis. The country tried to enhance the green industry and focus on recycling and circular economy and supported a new type of industrialisation. Automobile industries are shifting towards EV vehicles. It is a transition period for Japanese industries.


The next couple of questions considered the impact that universities might have on green transition. Mr. Pukk noted that cooperation should be mutual from both the academia and industry sides. The market, however, is different across different regions of the world. Estonia does not have clear politics regarding this matter, the academia is not focusing on one narrow field and puts money everywhere. There needs to be a political willingness for this concept to function, he said. He also asked that if the current industry needs about 30 thousand more engineers, then is it reasonable to invest money in the education of lawyers. Mr. Rungi thinks that we also need to keep a balance in the society and education sector. As the regulations in the field of sustainability are still evolving, there exists a continuous need for lawyers. In the field of business, according to the value chain's smile curve, we need well educated innovators and exporters. We cannot stop educating people from other fields to direct money into teaching engineers. Mr. Dodge said that the situation with engineers is no less dire in the USA. He mentioned that maybe using games as sandbox tactics might work to spark the creativity in youth. Mr. Matsushima mentioned Japan having the need of 0.8 million people in a higher-level IT skill labour market. He, however, pointed out that Japan has a good political system regarding that matter.
The moderator re-focused on universities, their cooperation with companies and the situation on labour market. Here Dr. Rungi pointed out that most universities are not seen as development partners by companies; instead, they are mainly seen as institutions to provide talents for labour market, therefore EUAS continuously works together with companies to elaborate university-companies relationships further to change this mindset. Mr. Pukk agrees that EUAS is a good example of working together with companies. He also added that it is important to know what the universities can offer to the companies. Many universities have different kinds of specialists, yet the companies might not have a need for them. There's a need for a political support system as right now everyone is racing on their own. Regarding labour market, Dr. Rungi emphasized that there is a huge lack of ICT specialists in Estonia, and it is not decreasing year-by-year but, according to admission and graduation numbers of Estonian universities, it is increasing. As mentioned before, both the US and Japan are also in need of more specialists. There is also increasing need for interdisciplinarity between university specialties, such as in EUAS where ICT and business, design and business, or ICT and design are combined. The moderator asked Mr. Graham about whether it is okay for companies to tell universities where to focus on or should the scientists be left alone to do as they wish. Mr. Graham replied that it is important for universities to have commercial partners as it would help gather info on how to impact the surroundings. Mr. Matsushima was asked what is expected from the university he works at. He replied that the Japanese government has a continuing development plan where both digital and green sides of universities provide technological solutions. He also noted that Kanazawa university has become a catalyst for new industrialisation. The knowledge focusing on bio-digital solutions.
The next set of questions focused on innovation costs and regulations. Here, Mr. Pukk spoke about the worry whether the green transition must always cost more than the current ways of production. He thinks it does not necessarily have to be so. With the right mindset one might be able to find a solution. With more thinking we might find solutions that are cheaper than what is known today. He also mentioned that the situation is not as black and white as something just being cheaper or more expensive. Mr. Rungi pointed out that we do not have the right strategies in place for financing the green transition. Generally, we have two types of innovations. The fast innovations that don't cost much, but help environment significantly in fields such as water, waste treatments and energy solutions; and other, more expensive initiatives, such as new material development. The situation could be improved in many ways. Government initiatives to lower taxes placed onto innovations is one good example. Yet we are not alone with this funding issue. Environmental issues are global, he said, and globally there are many resources available. He noted that we just need to be good enough to put them to use, especially since Estonia is a small country. There are also local Estonian funds available that are not used to full extent. Mr. Dodge shared his thoughts about regulations and said that the USA is not feeling much schadenfreude over the fact that the EU has such strict policies in place. It is more of a learning point for the States, since not too many right steps are being taken there. But the country is still developing in the right sense and tries to catch up to the EU, as they see that EU can make changes more swiftly than the United States. Mr. Matsushima agreed with the idea of developing in the right direction and said that Japan is also trying to expand their environmental regulations. He also added that financing facilities have to follow the ESG, otherwise it is difficult to find money for investments.
The last set of questions was directed towards transportation and the issue of battery technologies. Mr. Pukk argued that there are a lot of challenges in that field. Especially regarding the production and recycling of battery technologies. These matters are not easily fixed. Mr. Rungi has the opinion that battery technologies are a little less dangerous after using solid compounds. He also mentioned Skeleton Technologies that has achieved good developments in the field of battery production. Therefore, he agreed with a previous keynote speaker Mr. Sutt who also believes that battery technology is going to develop in the right direction and will do so quickly.
The panel was concluded by Mr. Rungi who answered to a question about why the companies in Estonia, the EU and those just active in the European economy should invest in green transition. The rector stated here that Estonia has only a small number of companies that work in the field of research and development (R&D). Only 300 companies of the approximate total of 100 000 are focusing on R&D. Other companies might have to start buying in the knowledge if they themselves are not well skilled in the field. A good partner in this situation would be the universities. Mr. Rungi recommends trying to get help from higher education institutions, since the companies wouldn't have to employ them but only support the research a few times in a year. Universities might also have better resources and facilities to conduct research and development. He strongly believes that the whole society: companies, universities, governments, etc., will benefit once the companies start investing more in R&D and cooperate with universities.
You can find full discussion on our Youtube channel. More information at conference homepage.